Micro Mold founded on Nov. 1, 1978 by Timothy Katen and David Mead
Micro Mold founded on Nov. 1, 1978 by Timothy Katen and David Mead in a rented garage on Filmore Avenue in Erie PA. At the time, the young entrepreneurs didn't have a telephone or heat in the rented garage.

Tim Katen reflects "When we started Micro Mold, my wife was pregnant with our second child. I asked my neighbor if I could use his phone if she went into labor while I was at work. He passed along his phone number and agreed to get me if she called"
Micro Mold expands and builds its own facility on Pittsburgh Avenue in 1984.

Throughout the 1980's Micro Mold's reputation as a precision moldmaker rapidly grew. As their reputation grew, so did their workforce and capabilities. This led to multiple facility expansions through the 1980's as electronics continue to enter America's households and medical devices begin to embrace the advantages of plastic manufacturing.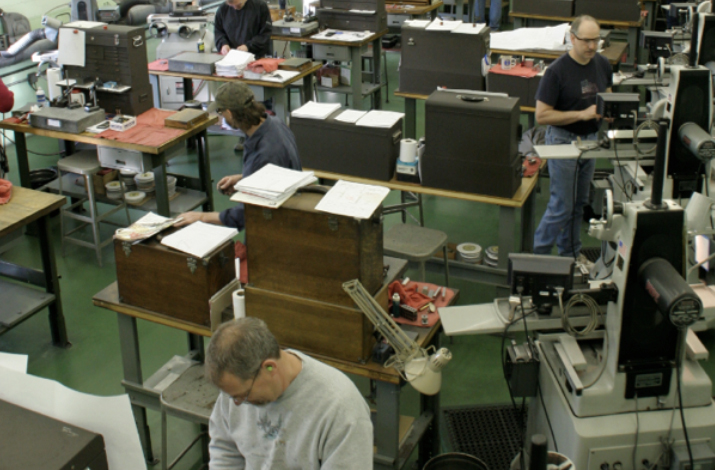 Micro Mold has become a well-known moldmaker by this time. The Company is profitable, and managing a strong workforce, while maintaining a focus on tight-tolerance precision electronics and medical applications. During this time, Tim and Dave have partnered with two fellow industry colleagues (Gary McConnell and Bill Fogleboch) to start a custom injection molding business, Plastikos, Inc., in support of their customers.
Off shore pressure in the electronics industry gains momentum and Micro Mold begins to further diversify further into medical mold manufacturing. CNC technology advances as the demand for shorter lead times & even tighter tolerance increases.

During this timeframe, the economy suffers a major downturn, which will play a large role on Micro Mold's future to focus on automation techniques and "Lights-Out" Manufacturing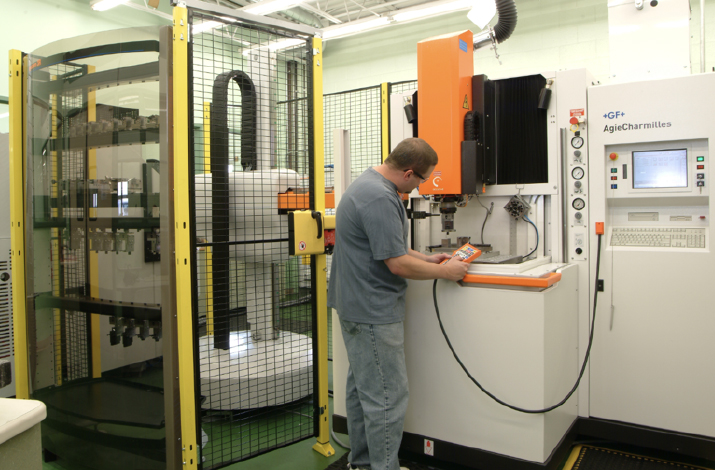 Micro Mold doubles down on automation equipment by integrating CNC Milling & CNC EDM Centers. Ownership has now transitioned into the second generation after Tim and Dave retired in November 2009. Micro Mold continues to focus on their growing medical mold portfolio to support its sister Company, Plastikos Inc., as well as numerous other Micro Mold – specific accounts.
Continuous improvement efforts were made by reinvesting in technology. New multi axis turning centers with robotics were added for additional lights out capabilities, additional molding equipment was added to the R&D Center for initial mold trials and sampling efforts, and all CNC sinker EDM equipment was replaced with Mitsubishi EDM's to provide enhanced tolerancing capabilities and surface finish.
In 2022, Micro Mold invested over $1 Million in new machining equipment, which included a brand-new Yasda 5-axis milling center. This additional piece of equipment was purchased to further enhance our machining and lights-out capabilities as it will be outfitted with its own muti-axis robot.
Present Day

1978

1980-1989

1990-1999

2000-2009

2010-2015

2016-2021

2022
Lead by passion

Driven by innovation.
Micro Mold—a precision moldmaker headquartered in Erie, PA—was established by Tim Katen and Dave Mead in 1978.
The two entrepreneurs invested their personal life savings into the business and officially began Micro Mold in a small, rented garage on Filmore Avenue.
Today, the company rests on a 17,500 square-foot facility consisting of 20 full-time employees and has seen multiple expansions.
Turn to us for proven engineering and materials expertise, precision tooling, tight-tolerance molding and a fierce commitment to your success.
In-house Mold Design & Fabrication
Complex, tight tolerance components
Custom fixtures and End-of-Arm Tool design
Mold Sampling & Validation