Part design
for Manufacturing
Part Design for Plastic Manufacturing is vital to the overall success of your medical device. Key elements, such as uniform wall thickness, draft, structural rib design, gate location, etc. must be closely scrutinized during the Design for Manufacturing review with your medical device supplier. If these key features are left unaddressed, it can (and likely will) lead to other issues downstream relating to overall part quality, dimensional stability, and cost. Upfront analysis via mold filling simulations is an excellent tool to help identify where certain areas of the part design need addressed before beginning the mold design and subsequent fabrication.
Our plastic engineering team at Plastikos has developed a list of questions and considerations to review while designing products. Of course, our team is always open to schedule a DFM on your device should you need further input on these critical design considerations, mentioned in this comprehensive summary.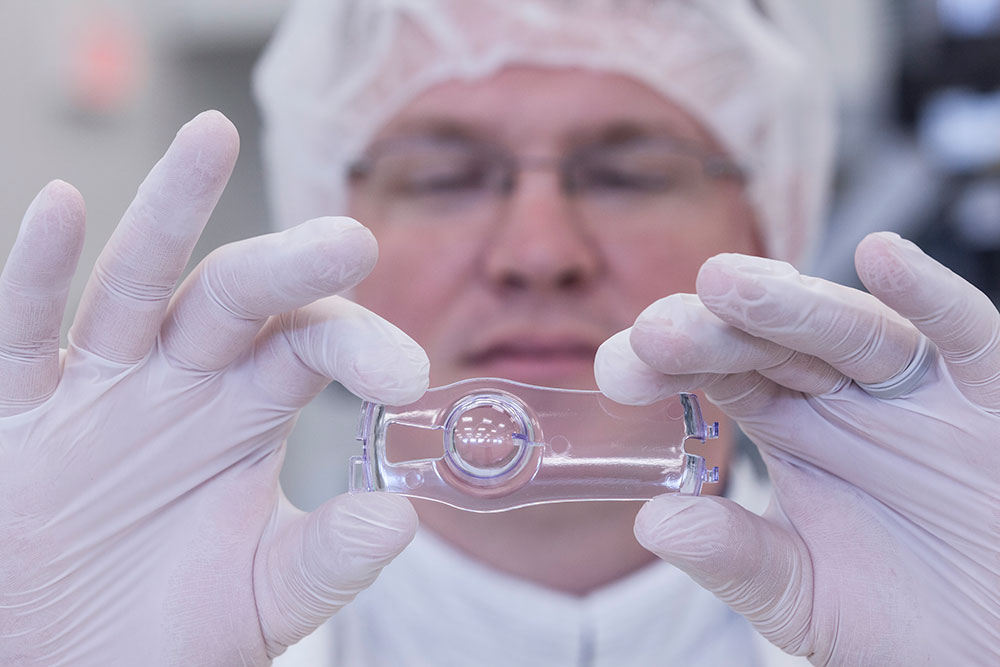 Product Design for Manufacturing: Geometry Optimization
Nominal Wall Thickness
Draft
Nominal Wall Thickness
Original Part Design
Different wall thickness between boss and body of part can lead to sinks & voids in that region.
Increased cycle time to cool these regions will lead to increased part cost.
Potential for dimensional issues related to thick regions.
Modified Part Design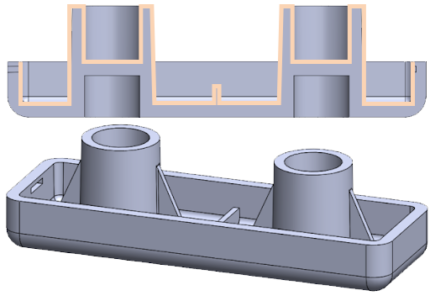 Removed excess material.
Nominal wall thickness will reduce sinks and voids.
Reduced shrink variations (improved dimensional stability).
Improved part quality (high volume areas are prone to sink marks).
Faster cycle time will lead to lower part cost.
Draft
Radii
Original Part Design
No radii on part.
Difficult to produce sharp corners in tooling (exterior molding).
Sharp corners can become weak points in part, resulting in stress cracking & part damage.
Modified Part Design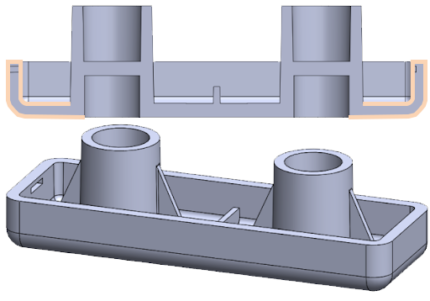 Radii used with void coring to keep consistent wall thickness.
Inner radii recommended to be ½ min wall thickness.
Outside radii recommended to be inside radii + wall thickness.
Can help improve filling conditions as well as part strength.
Gussets & Ribs
Undercuts
Unscrewing Cores
Undercuts
Original Part Design
Undercuts are common on many injection molded parts.
Undercut in part above (right wall) could be produced with intricate tooling (i.e. Lifter) depending on distance of pull.
Increased tooling cost.
Increased chance of quality issues (flash).
Modified Part Design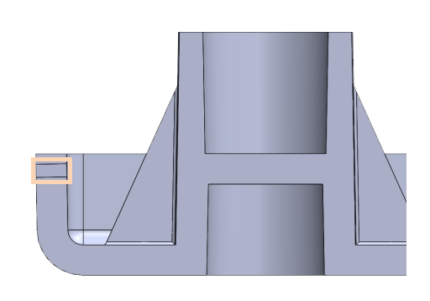 Undercut redesigned to go through entire part wall (left wall), which can be produced using a slide insert.
Reduces the complexity of the mold design.
Reduces the chance of quality issues that could occur.
Unscrewing Cores
Product Design for Manufacturing: Real World Example
Original Part Design
Modified Part Design
Original Part Design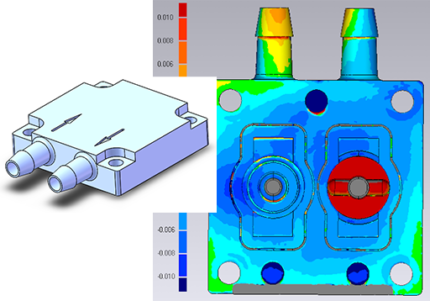 2-Cavity cold runner transfer tool that was awarded to Plastikos to run production on a microfluidic device.
Nominal wall thickness was 0.320" and our client was experiencing intermittent leak issues in assembly. This was also the region closest to the gate.
It was determined the leak was caused by a sink condition that occurred from such a thick wall. That sink mark would cause a depression in plastic ranging from 0.006" – 0.007", as indicated in the scanning technology, shown above.
Modified Part Design